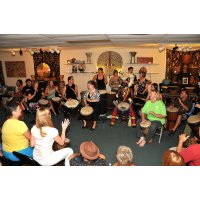 Bolokada Conde from Guinea, West Africa, will teach a beginner drum class at Skinny Beats from 6-7pm on Wednesday Feb 22nd.

After the class, Bolokada will perform with Billy, Linda and Melissa from 7:30 to 8:30.

The beginner class is $20, and if you attend that class or have attended one of Billy's beginner drum classes, you can get a performance ticket for $5. You can also purchase a credit for Billy's beginner class (Sun at 2pm and Wed at 6pm) and get the $5 performance deal, otherwise performance tickets are $12.