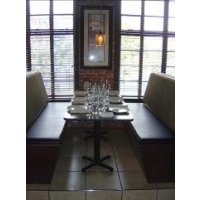 Decades Restaurant Bar is locally owned and operated. Our food is cooked fresh to order so please be patient as your meal is made with the freshest local ingredients available.

Decades Restaurant Bar is located at 81

Broadway, in the decades old Minico Dry Cleaners building. Purchased & rehabbed in the early 90's by a local family, now the building exists as Decades Restaurant Bar. Smoking is not permitted. Reservations available. Come in and enjoy live jazz and blues Monday through Friday from 6pm until 10pm.

Comments
Decades Restaurant Calendar
Media Galleries