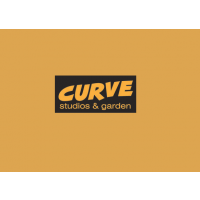 CURVE studios & garden is the brainchild of Pattiy Torno. When she purchased the three buildings on October 13, 1989, there was no River Arts District. "We thought, hey, there is nobody around so we can make as much noise as we want," Pattiy Torno recollects of CURVE studios & garden's first few years as a punk rock club called Squashpile. Since 1992, CURVE has slowly transformed into a haven of live/work creative space.

Twenty years later, CURVE studios & garden has become home to a lovely garden and an amazing assortment of every kind of visual art and craft imaginable. The diversity and depth of the work at CURVE speaks to its mission of creating a place where beauty, business and the public, intersect. By helping to found Asheville's River Arts District, CURVE studios & garden owner Pattiy Torno has helped create a new model for bringing people to art, art to life and a livelihood to the artist. CURVE studios & garden are open to the public 11am to 4pm daily, except Thanksgiving Day, Christmas Day, New Years Day, Easter & the 4th of July.
Comments
CURVE Studios and Garden Calendar
Media Galleries
Watchers
This place has 2 watchers.