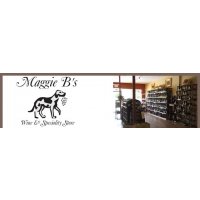 Maggie B's is Weaverville's first ever wine and specialty food store. But, despite what most people think, Maggie B is not the owner. She is actually Elspeth and Andy's 6-year old, yellow Labrador retriever. In her honor, we do offer dog parking outside, refreshments (water bowl), and doggie treats. So, if you're just walking around downtown Weaverville, or getting ready to take your pooch on a hike, stop in and grab some treats for yourself and your four legged friend!

Maggie B's sells wine, beer, meats, cheeses, wine accessories, and a little of everything else. We carry wines from smaller vineyards that you are not going to find at the grocery store. The wines are from all over the world: South Africa, Uruguay, France, New Zealand, and more. You will also find a wide selection of organic wines, which can be beneficial for people who have problems with the preservatives in wine.

In our deli cooler we have pates, prosciutto, pancetta, and deli meats. Our cheeses consist of items such as aged French cheddar, Argentinian Reggianto, marinated fresh mozzarella balls, and a local selections. We are a full service cheese counter, so how ever much you need we can cut it.

Don't forget, we offer free wine and beer tastings every week. Our tastings are informative, fun, and non-intimidating. Our customers enjoy our tastings because they feel comfortable in a place where usually you will see someone you know, or meet someone new!
Comments
Maggie B's Wine and Specialty Store Calendar
Watchers
This place has 1 watchers.
MaggieBsWine